Land Clearing & Brush Removal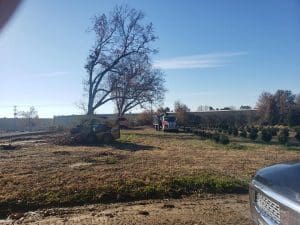 Land Clearing Service Searcy, Cabot, Beebe, Heber Springs
If you're looking for a company to help clear land for you, from large tree removal to underbrush removal to log removal, look no further than Searcy Tree Service. Our tree experts will leave your land looking spic and span as all that timber is cut, hauled away, and we can even get rid of the stumps for you.
Underbrush Removal in Jacksonville, Conway, Vilonia
Are you looking to have land cleared for new construction? Do you need brush removed or underbrush ground into mulch? Are you in need of Emergency Tree Services? Our tree cutters are standing by with chainsaws and woodchippers to help!
Clearcutting Company in Arkansas
Give us a call today and we will get that land cleared up for you in no time. Our prices are reasonable and our arborists have years of experience clearing land all over Arkansas.
Hire Arkansas's Best Tree Service
At Searcy Tree Service, we know you have a choice when it comes to hiring a quality tree service in Arkansas. We understand that our business is built on reputation, and our good reputation is dependent on our performance on every job. When you hire us to remove trees for you, clear land, remove brush, or any other service we offer we pledge to do our best to exceed your expectations as our customer.
Thank you so much for your business!