Searcy Emergency Tree Service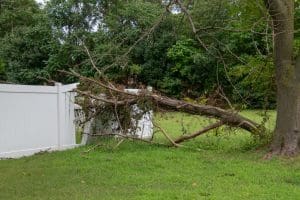 Emergency Tree Services Searcy, Cabot, Jacksonville, Beebe
Have you been affected by the recent storm? Did high winds knock a tree down on your property? Did a tree fall on your home or another structure in your yard? Is a driveway or road blocked by fallen debris?
If you're in need of storm debris cleanup or emergency tree services, please contact us immediately so we can help. Don't let that fallen tree stay there. Our arborists and tree professionals will cut it up and haul it off in no time.
Emergency Tree Removal
If you're in need of emergency tree removal, emergency tree cutting, or emergency tree services of any kind, please contact us right now so we can help. We can also help with stump removal and land clearing. Whatever service you're needing, please give us a call!
A fallen or diseased tree can be dangerous. Let Searcy Tree Service take care of your tree removal and debris hall away. We understand the stressful situation a tree falling can cause. We will quickly and safely cleanup the tree for you, and ensure you can get back to life as usual.
If we can help you with Emergency Tree Services in Searcy or the surrounding White County area please give us a call at 501-292-2776.